In February 2004, almost two years before the Association of Fundraising Professionals (AFP) and the Urban Institute joined forces to conduct national research on donor retention, AFP's publication, Advancing Philanthropy, ran an article titled "The Case of the Disappearing Donor."
During the ensuing seventeen years, the economy has risen and fallen a couple of times. However, during most of those years the total charitable dollars given have increased. In the last few years, we know that part of this is the result of extremely wealthy donors making enormous gifts in the multi-million-dollar range. Removing those individuals from the mix creates a different picture.
What remains are small and medium-sized donors and several large gifts. The problem is that the small and mid-sized donors are the ones who are disappearing. They are most often donors who have not reached their income potential and, therefore, their giving potential. Losing them now can mean losing them forever.
Another factor to consider is that the mega-donors often give restricted gifts. Small and medium-sized donors provide the major share of unrestricted donations. These unrestricted donations are the donations keeping the lights on.
Classifying Your Lapsed Donors
The bulk of the disappearing donors fall into two categories; they are either first-time donors or lapsed donors. Yes, first-time donors that don't give again become lapsed donors. However, by better managing the first-time donor, an organization can significantly lessen the number of lapsed donors. For discussion here, consider lapsed donors as donors who have given more than once and then lapsed, or donors who gave a single gift two or more years ago.
Research has shown that, in the last few years, only 23% of first-time donors make a second gift to an organization. That means that only 1 in 5 donors will give to an organization a second time. If they do make a second gift, they are 64% more likely to make a third charitable transaction to an organization. Keeping those first-time donors should be the development officer's Holy Grail.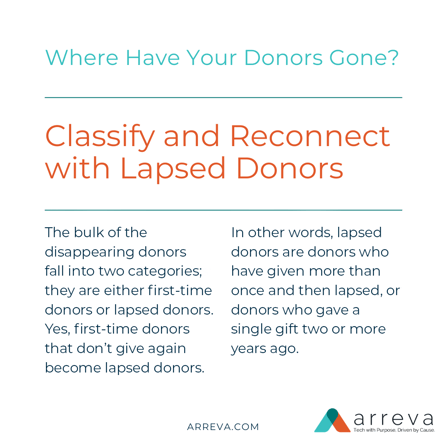 Ways to Steward First-Time Donors
There are several things a nonprofit can do to steward first-time donors. It starts with the initial gift thank-you letter. Amazingly, this is often done poorly. Ideally, the letter should be mailed within 48 hours of receiving the gift. With donor relationship management software, this goal can easily be achieved.
There are some caveats. The letter should accurately address the donor. In this case, appropriate salutations, and spelling count. The letter should be correctly formatted and have a professional appearance. The letter should be hand-signed in blue ink. Both a computer-generated and a stamped signature scream "we don't care about our donors." It is also especially nice when the letter-signer writes a simple p.s. on the letter. All of these "should dos" amount to an emphasis on being prompt, correct, and friendly. The initial gift thank-you illustrates whether an organization is providing donor stewardship or not providing it.
Other simple ways to demonstrate appreciation, in conjunction with or, following the initial thank-you letter:
A phone call. This can be done immediately upon receiving the gift. Research by Penelope Burk, author of "Donor-Centered Fundraising," notes that this simple phone call greatly increases the chance that the organization will receive a second gift. Making thank-you phone calls is a wonderful, non-threatening opportunity to engage board members with donors.
A hand-written note. Hand-written notes stopped being in style with the mass usage of computers, therefore, receiving one is special and memorable. Again, this is a terrific opportunity to involve board members.
A personal email. This is not an auto-generated email. This is a personal, heartfelt reach-out to a donor, saying "thank-you."
A photograph. A photo demonstrating clients or volunteers involved in the programs or services of the organization. Tuck the photo in with the thank-you letter. The picture helps tell the organization's story.
A newsletter. This can be printed or emailed. Providing information to donors strengthens their understanding of the mission and its importance.
A survey. A short 3- to 5-question survey, by postcard or email, that asks about their opinions or preferences. This is an opportunity to engage the donor.
None of the above suggestions are costly. They do provide ways to involve board members and garner participation by donors. They are powerful in their simplicity.
No organization will keep all its first-time donors. An organization should review its database from last year and identify first-time donors. It is not too late to reach out and implement some of the listed activities and say how much the organization appreciated their first supporting charitable gift. Then, create a plan to keep this year's first-time donors.
Reasons Why Donors Leave
Tackling lapsed donors is much harder than planning to keep first-time donors. The lapsed donor gave to you in the past and has not given since. They may have given a single gift or multiple gifts. They are harder to re-engage because too much time has passed.
Donors leave for many reasons. Lack of income, moving away, or death are not the top reasons. They most often leave because the nonprofit never made them feel appreciated or did not communicate the impact of their donation. People want to know that their gift made a difference, that something in the community changed, even slightly, and that there was an impact.
This understanding of the impact of the gift is especially true of first-time donors, but it is also true of donors who have made multiple gifts. Organizations need to understand that two of the primary reasons donors quit giving are: 1) Donors do not believe the organization cares about them – the organization does not demonstrate gratitude, and 2) The organization did not explain to the donor the impact of the donor's gift.
There are 4 key ways an organization can re-connect with its lapsed donors:
Write a Letter

It is never too late to say thank you. The thank-you can acknowledge the passage of time and be contrite. Let the donor know that, because of their past support, the organization has been impactful. Describe the number of families the organization has served; the number of puppies rescued; how many students received scholarships, etc. Let them know that they helped make it happen. Don't ask for a gift and start cultivating these donors.

Plan an Organization Tour

Invite them to tour the nonprofit facility and meet with the executive director and a key program staff member. Again, this is about donor cultivation. The organization wants them to truly understand the mission as it is being delivered and its impact.

Schedule a VIP Event

Invite them to bagels and coffee or dessert and coffee. This is, again, a cultivation event and an opportunity for donors to gather with like-minded people. Have board members in attendance. This is an opportunity for board members to share why they are involved. Again, this is a non-solicitation event.

Donor-Giving Circle

Create donor-giving circles at different dollar ranges. Invite the lapsed donors to give again and be part of a giving circle. The donor-giving circle should be educational and social.
Go back three, or preferably five years, and analyze the organization's database. Determine how many lapsed donors there are in specified dollar ranges. This will help in determining the one or two strategies the organization will use to nurture and regain lapsed donors. These strategies are much less expensive than the cost to gain a new donor. They also move the organization towards a donor-centered approach.
Closing Thoughts
Keeping first-time donors and regaining lapsed donors requires planning and diligence. For the long-term sustainability of the organization, stewardship of these donors is critical. These donors cared enough to support the organization. Now, the organization needs to demonstrate sincere gratitude towards the donors.
To gain additional insights into strengthening your nonprofit's donor retention number, please subscribe below or download Arreva's White Paper: Using Donor Retention and Data Mining Strategies to Create Sustainable Virtual Fundraising Programs.