In 2006, the Urban Institute and the Association of Fundraising Professionals began a research project to determine the donor retention rate of nonprofit organizations in the United States. Over the fourteen years of the research project the donor retention number has slowly declined. At the close of 2019, the average donor retention rate for nonprofit organizations was 45.1%.
Organizations need to realize the implication of that number. It means that, if the organization gained 100 new donors in 2020, it would only keep 45 of them in 2021. Another startling research statistic is that only 23% of first-time donors will make a second gift to the organization (less than 1 in 4).
The good news is that the future is not yet written, and an organization can make a significant positive impact on their donor retention number, if they have clarity on their own donor retention number and put strategies in place to improve it. Having a donor retention number surpassing 70% is entirely possible and will result in a long-term funding stream for the organization.
This blog will cover an overview of donor retention, it's importance, and 5 key tips that can be leveraged to encourage donors to give again.
What is Donor Retention?
Donor retention is the percentage of donors that give to a nonprofit organization year after year. To calculate donor retention, take the number of donors who gave in each of two consecutive years and divide by the total number of donors who gave in the first year. Multiply the result by 100, and, voila, you have the donor retention percentage. An organization's donor retention rate provides a good benchmark. Calculating this number year over year enables an organization to measure how successful its fundraising strategies are, and answers the question; Is the organization keeping its donors?
In calculating donor retention, only use individual donors. Because individual donors should account for 70% or more of an organization's charitable income, they are a key benchmark in determining the success of an organization's fundraising program. Individual donors, unlike corporations, foundations, or other giving entities (such as a Rotary Club), do not have an application process and they do not need to ask someone else for permission to give. The nonprofit can also approach them directly and build a long-term relationship. Building those long-term relationships is key to donor retention.
Why is Donor Retention Important?
One of the main reasons why organizations strive to retain donors is because it is much less expensive than donor acquisition. There have been estimates that the cost to acquire a new donor is five times more than the cost to maintain the donor relationship. Donor acquisition is one of the most expensive business decisions a nonprofit makes. An organization, through no fault of its own will always lose donors; and therefore, nonprofits need to implement effective donor acquisition activities. However, if donor retention is made a priority focus, then an organization will lose fewer donors and its donor list will steadily grow. This growth is what will enable the nonprofit to provide stellar services and programs, fulfill its mission, and impact the community.
Tips for Donor Retention
Make Sure Your Thank You is Prompt, Personal and Impactful
The process of building relationships starts with the very first gift. As noted by Mal Warwick, fundraising guru, entrepreneur, and author, in his book, Fundraising When Money is Tight, "Prompt, personalized thank-you notes won't do the trick alone. It's important that your donors – especially your most generous and responsive donors – get the feeling that you care about them more than just as sources of cold, hard cash." According to the research, described in Building Donor Loyalty: The Fundraiser's Guide to Increasing Lifetime Value, by Adrian Sargeant and Elaine Jay, people judge the overall effectiveness of an organization by how they are treated as donors.

You sent the thank you, promptly (within 72 hours). You personalized it. Did you also tell a wonderful story regarding how your organization impacted a child, a family, the community, because of the donor's generosity? This is one simple way to engage the donor; a simple way to tell the donor that their gift made a difference. Tell a story. Most of relationship building with donors comes from very small things that communicate appreciation and impact. Over time, all the small things will build trust and a strong donor relationship.

In addition to a prompt, personalized thank you that tells a story of how the donor's gift made an impact, the development staff might consider the following tips:

2. Call Your Donors

Call the donor within 24 hours of receiving the gift and thank them; leaving a voice message is acceptable.

3. Send Another Thank You via Mail

When is the last time you received a handwritten thank you? Did you automatically open it because it was personally addressed to you? Sending a hand-written note, a week or two following receipt of the gift, is a great way to express your appreciation and make the individual donor feel like their gift matters (because it does). This can also be a wonderful, and impactful, task for your board members.

4. Survey Your Donors

It's 2021, and surveys have become a standard for customer retention, so why not apply this same process with your donors? Send a 3 to 5 question survey to engage the donor regarding the organization's programs and services and their communication preference. Doing so ensures the donor has an opportunity to feel heard and that you collect feedback surrounding your programs and services so that you can use that data to improve donor retention and acquisition.

5. Ensure Equitable Stewardship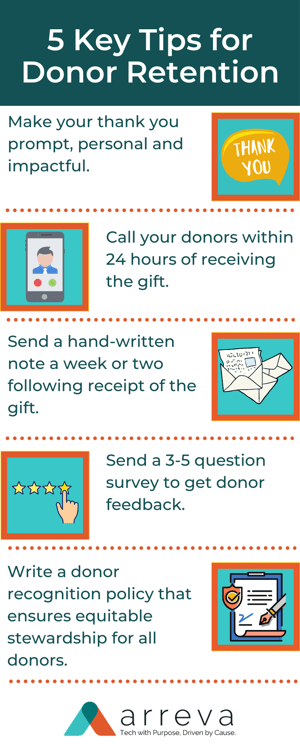 While gift amounts may vary, it's necessary to create
policies that allow every donor to feel like their contribution is important. So, take some time to write a donor recognition policy that ensures equitable stewardship of all your donors.
Closing Thoughts
As aforementioned, most relationship building with donors
starts with the very small things that communicate appreciation
and impact. As time passes, all of those small things will add
up and ultimately build trust and a strong donor relationship.
To gain additional insights into strengthening your nonprofit's
donor retention number, please subscribe below or download
Arreva's White Paper: Using Donor Retention and Data Mining Strategies to Create Sustainable Virtual Fundraising Programs.