Now that Q4 is underway, and you are in the process of, or about to begin, preparing your 2021 annual report, we want to share 6 of the best nonprofit annual reports from 2020 to inspire you. From healthcare hospitality to youth services to religious organizations, these examples highlight the best annual reports from vastly different nonprofit sectors to provide you with insight into just how compelling, visually appealing, and informative your annual report can be.
In their opening message, Ronald McDonald House Charities® expressed its immense appreciation for being able to further their mission, even throughout the global pandemic. Their work extended well beyond all they do in helping children and their families in 2020, since they also graciously provided respite to healthcare and frontline workers. Not every nonprofit aims to connect with the public through their annual report, but through expressing gratitude and appreciation for continued support throughout the pandemic, organizations engage readers and encourage outside participation. Acknowledgements and recognition should consistently be integrated into a nonprofit's annual report.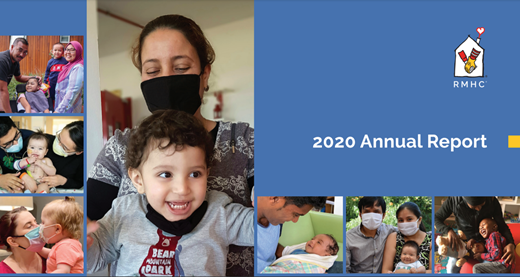 Photo courtesy of Ronald McDonald House Charities®
The Jewish Federation of South Palm Beach County created a beautiful online annual report for 2020. The responsive sections on the sides are easily navigable and the included videos showcase the impact they are making on their community. Their graphics, which highlight members of the community and those who have benefited from the Federation's programs, are edited to fit in with the angular theme.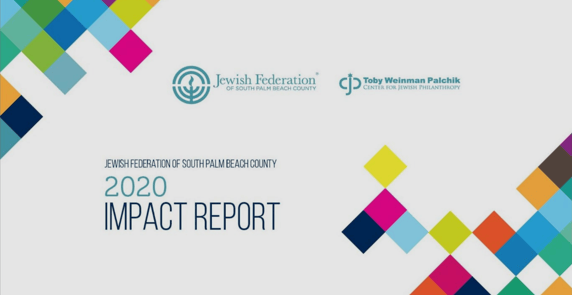 Photo courtesy of Jewish Federation of South Palm Beach County
The Best Friends Animal Society use of Adobe Spark for their Annual Report helped to take their report to the next level. The high-definition images of the adorable animals they've helped, combined with the motion, and look and feel of an Adobe product makes this report exciting to scroll through. Due to its interactivity, use of icons and images, and overall organizational style, this annual report is definitely feline like a million bucks!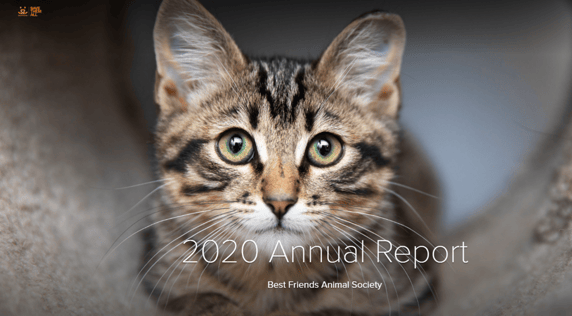 Photo courtesy of Best Friends Animal Society
The Girl Scouts' annual report opens on the timely theme of social distancing and virtual meetings. Even through months of mask accessories and social distancing their troops were able to stay connected, united, and remained stronger together. The report is filled with real pictures of the scouts, as well as several charts and graphs used to relay information to readers. Green is the main color throughout the report, which is symbolic of what the Girl Scouts of the USA stands for. Organizations should certainly aim to project their own values throughout their reports.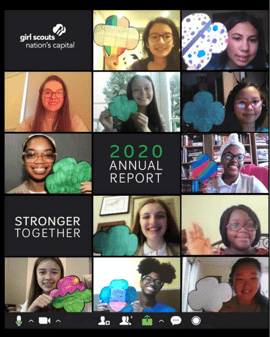 Photo courtesy of Girl Scouts
The Sierra Club Foundation produced a powerful report, designed to illustrate their year of resisting, renewing, and reimagining. Each section is clearly documented, distinguishable, and easy to read through. They've included visually appealing sections with short paragraphs, surrounded by striking photographic images. In each page of this report, short paragraphs are consistently accompanied by pictures that allow readers to easily comprehend the message shared in each section. Lengthy sentences should be limited to certain parts of annual reports, but organizations will find that short paragraphs, supplemented by illustrations, suffice.

Photo courtesy of Sierra Club Foundation
Boys & Girls Clubs of Wake County opened their report with a letter from their Youth of the Year honoree. Not every nonprofit aims to connect with the public through their annual report, but through highlighting the journey of their Youth of the Year, they warmed the hearts of their readers with a compelling message from an individual directly benefiting from the mission of the organization. Showing the donors, supporters, and anyone else reading the report, real life examples of how their contributions and support impact the recipients of those gifts should be integrated into a nonprofit's annual report.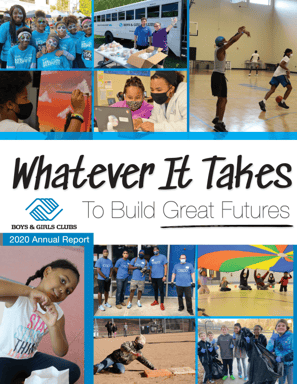 Photo courtesy of BGC Wake County
Closing Thoughts
There you have it, folks! 6 examples of amazing annual reports from 2020 to help inspire you for 2021. Remember - an excellent annual report tells a story, includes robust reporting and great data, and is easily organized. If you're looking for tips on how to better manage your donor relationship management database to make the reporting process as easy and seamless as possible click here for a free demo and consultation.