GivingTuesday is known as the day for giving back and is commonly referred to as a global generosity movement. It falls on the Tuesday after Thanksgiving (this year it is November 30th) and over time became a convenient and effective campaign idea for nonprofits.
Not only can you give your donors and supporters another creative way to give, perhaps tribute gifts in each of their family member's names, but as you promote this campaign you can simultaneously raise cause awareness. As we all know, increased exposure can only pay off down the line. But, to make an impact, you need to have a successful and well-executed GivingTuesday campaign.
With the following 7 tips, you can maximize your GivingTuesday campaign.
Get a Jump Start on the Movement
Despite GivingTuesday being a few weeks out, you still have time to make sure you are well-prepared for the day. You will want to utilize social media, your email list, and a website to spread the word about your campaign. These are all excellent avenues and great ways to reach your audience. But one thing each of these strategies requires is thoughtful preparation.
You will need to have prospect lists, marketing materials, and messaging ready to go for the launch of the campaign. We recommend preparing for all of this ahead of time. Double-check your lists, test your donation forms, gather all your graphics, draft social media captions showcasing your messaging, and get a jump start on the newsletter before you kick off your campaign. We recommend scheduling in advance, that way, it's all set and ready to go without additional effort, letting you focus on other launch tasks.
Set a Goal
Part of preparing for the campaign includes setting a goal. The goal can vary, or you can even have multiple action items you want to accomplish. Some examples include how much you want to raise for your GivingTuesday fundraiser and the specific audience you want to reach.
Once you know what you want to accomplish with your campaign, you can tailor your plans to this outcome. With each step you take getting ready for the GivingTuesday campaign, you will move closer and closer to achieving the desired outcome. Every step leading up to the big day is critical.
Take Advantage of Giving Tuesday Resources
Along with our tips, there are plenty of resources available to help you pull off a successful GivingTuesday campaign. One resource is GivingTuesday.org. This website has everything you need, and more, to get prepared for your GivingTuesday campaign.
The site is dedicated to helping non-profits by inspiring them and providing them with essential campaign tools. Some of what you can expect to find are blog posts, social media graphics and images, data, messaging, and more. If you need a starting point, GivingTuesday.org is a good place to begin.
Find Comfort in Taking Risks
While taking risks for a campaign is not always feasible, nor considered a best practice, it can pay off in some scenarios. A GivingTuesday campaign is one of those circumstances where risk-taking is encouraged. With the campaign framed around one day of the year, you can get creative with it. If there's a campaign idea you have wanted to try out, now is the perfect time to do it.
GivingTuesday campaigns leave a lot of room for creativity and are the perfect place for trial and error. Whether you want to try out a new hashtag or utilize peer-to-peer, team fundraising, recurring giving campaign, or a text message campaign, we recommend going in confidently. After the campaign wraps up, you can reflect on what worked and what didn't work. You might even find something that worked so well that you would consider using it again in future campaigns.
Determine Your Why and Ask
Many people love fundraisers and enjoy giving back to the community. But, to convince others who might be hesitant about the cause or donating, it's critical to have a why and an ask. The why is the reason people should donate money to your cause. This is the opportunity for you to share an experience, give people more information, and provide facts.
After you have communicated your why, you need an ask. Some donors will donate without question. But, to those who need some warming up, the ask can do exactly that. The ask should be direct and, although called an ask, should not be a question. For example: "This Giving Tuesday, we need your help. Please donate $25 today to provide shelter for stray dogs."
Identify Your Donor Network
Once you have the campaign finalized, know your why and ask, and have an execution plan, you can focus on who your potential donors are. Not only is knowing your audience and network critical, but it can help you further maximize your GivingTuesday campaign. You want to start with the people closest to you and others helping with the campaign. These are your family members, friends, co-workers, classmates, neighbors, social media friends, followers, and more. Then look outside your network and create lists of other prospects, including lapsed donors, current donors, and acquisition candidates.
The goal is to make a list of these people and reach out to them to support your cause. They can assist by donating to the cause, and if you have a peer-to-peer campaign, by spreading awareness to others in their network. Before you know it, the campaign has gained traction, with more and more people learning about the organization and donating. Bonus points if someone in your network has a large social media following or knows someone who does!
Show Your Gratitude
Once you launch the GivingTuesday campaign, you want to express your gratitude for those who are donating and spreading awareness. Doing this makes people feel good for doing their part and encourages donors to donate again next time. In the end, everyone wants to feel appreciated. Showing this gratitude is simple, impactful, and does not require an extravagant gesture.
You can say thanks to donors by sending a message of appreciation their way after they donate to the cause or share your organization's mission with their network. With fundraising technology, you can send automated messages expressing your thanks after each individual donation. This method might even give you a few new subscribers to your email list. For those who help by raising awareness on social media, you can have a team member or organization account reach out and say thanks, either through direct messaging or by commenting on the post.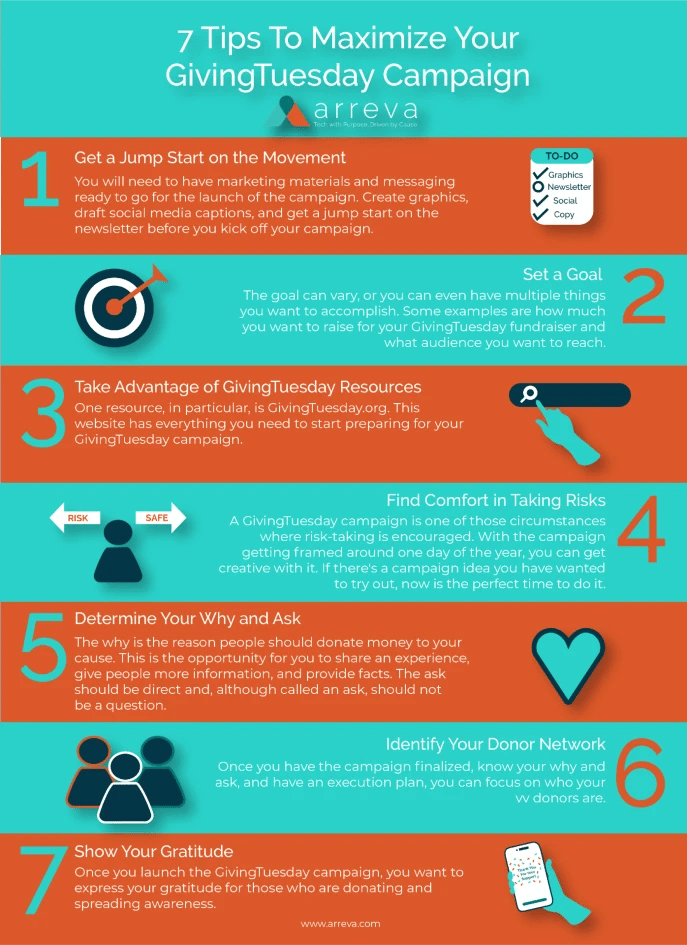 Closing Thoughts
With GivingTuesday right around the corner, there is no better time than now to start brainstorming. With our GivingTuesday campaign tips, and the resources listed below, you can scale your campaign, bringing it to the next level. Maximizing and reaching your goals has never been easier.