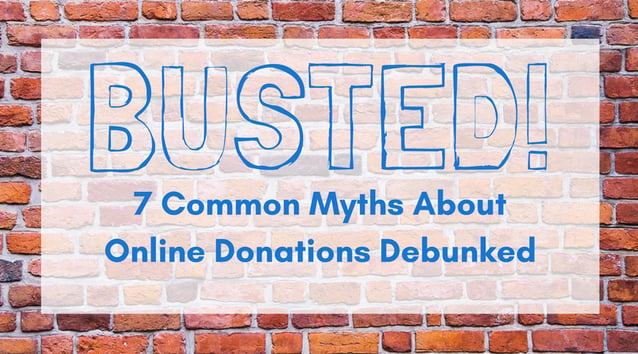 From the moment we check our email each morning to powering down our tablets at night, it often feels as though technology has taken center stage in virtually every aspect of our lives. The nonprofit community is no exception to this paradigm shift. Every year, more and more people opt to give to their favorite nonprofit though online donations.
In 2016, for example, over 7.2% of all donations were made online. According to the 2016 Charitable Giving Report, Giving Tuesday donations online grew by 20%. Yet, despite evidence to the contrary, myths about online donations continue to exist.
Today, we're going to debunk some of the most common myths about online fundraising and donations.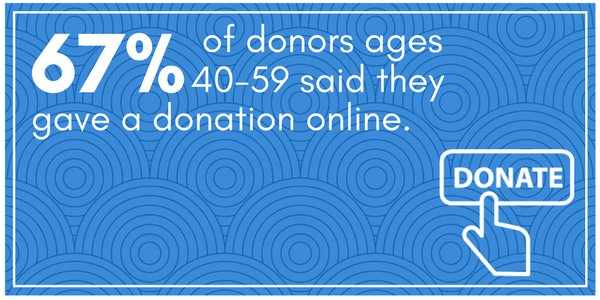 Myth: Only younger donors donate through online fundraising campaigns.
A finding by Dunham + Company reports that the age range most likely to donate through an online platform is 40–59. The idea that the Baby Boomer generation isn't technologically savvy is a fallacy. Nearly 50% of seniors aged 65 and older are on social media every day and a surprising 82% of Boomers are on at least one social networking site and 71% of those users are online every day. When you incorporate donations online and social sharing into your fundraising strategy, you're increasing your opportunities to connect with a slightly older demographic, rather than decreasing.
Myth: Online donation pages don't require any additional promotion.
Some organizations become frustrated when their online donation pages are not immediately successful. Yet, when we ask how they are promoting the page, we discover that they've been relying solely on word of mouth advertising and have no designated publicizing strategy. We all wish there was some Field of Dreams, "If you build it, they will come" exception to fundraising, but the reality is that online fundraising requires just as much promotion as your fundraising events. Developing a well-rounded giving campaign strategy for your donation pages (that's right, you should have more than one) will help to increase your revenue and set a solid foundation for campaigns in the future.
Myth: Online donations are not as personal.
It is fun to host fundraising events and meet your donors face to face. It lets you meet the people who are helping to make your organization a success and thank them directly. However, you might have donors who cannot logistically participate in your events, or you may have donors who wish to donate both online and offline. Online fundraising and donations can be as personal as you want to make them. With integrated email applications in fundraiser software, you can immediately thank people for their donations and, with donor tracking, you can even make personal phone calls to high-dollar donors.
Myth: If your donation page looks good on your website, it will look good on any screen.
Today's web design involves so much more than a clean page displayed on a laptop or desktop screen. With the growing number of smartphones and tablets, that's a high likelihood that more than one of your constituents will visit your donation page from a mobile device. In fact, in the past year, mobile giving donations have increased 205%, with over 25 percent of donations made online coming from a tablet or smarthpone. In other words, make sure you that your site is responsive and mobile-friendly to optimize the number of clicks on your donation button.
Myth: It's too costly to collect donations online.
While there are processing fees associated with all online donation platforms, accepting donations online makes your organization accessible to people all over the world. There may be people who would not find out about your organization without this platform, so much of the money you would make through an online fundraising website would otherwise not reach your organization. A minimal fee is a small price to pay for the increased reach of an online platform. In fact, many organizations that begin incorporating online donations into their fundraising mix see a quick return on their investment—some in as little as a week!
Myth: You need to be technologically savvy to set up donations online.
With a growing number of online fundraising platforms available to nonprofits, donation pages are easy to set up and convenient to use. Whether you're an IT expert or a website novice, online fundraising software makes donation integration into your website simple and seamless.
Myth: Using a third-party money transfer service offers easy access to fundraising.
While services such as Venmo and PayPal are great for paying back a buddy for dinner, there are several factors which disqualify them from being the optimal platform to collect online donations. For starters, these financial services take visitors away from your website to process the donation. Secondly, these services are not tied directly into a donor management software that can track your constituents' donations and automatically send a thank you email with your organization's branding.