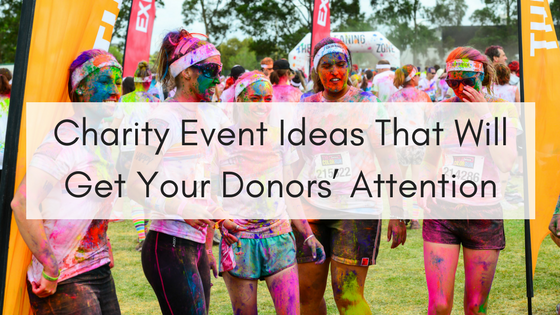 People generally feel more inclined to participate in activities if their money is going toward a worthy cause and there are plenty of ways to cater to a wide array of individuals. 5K charity runs are great, but if you are looking for more creative ways to fundraise, these charity event ideas—from fitness to social media and everything in between—are likely to garner the attention your organization needs.
Athletics & Fitness Nonprofit Events
Host a Zumba class
A fun activity that allows participants to bond through rhythm and catchy music, you will love the outcome of a charity Zumba event. This trendy form of exercise will certainly get people moving—and dancing for a cause will inspire generosity.
Hold a paintball competition
Host a paintball charity event to draw a large crowd; when you mix paintball and philanthropy, you will garner the attention of a variety of individuals and wind up with some colorful post-event photos to share on social media.
Sponsor a walk-a-thon
Walking is underrated—it is great for preventing disease and is lower impact than running. Because it does not intimidate as much as running does, you can draw larger crowds if you host a charity walkathon. Sell customized water bottles for an added incentive!
Organize a color run
This is a great activity, requiring contestants to get out of their comfort zones to run and make a mess. It makes running just a little less draining. These types of 5K run/walk events are fast becoming popular fundraising charity event ideas.
Arrange a rock climbing session
This activity often creates a hospitable atmosphere, involves trust (granted, a rope and harness keep you from harm's way), and allows people of all ages to attend. It's a great way to connect with donors while they wait for their turn on the wall. Local rock climbing gyms are typically very open to collaborating with good local causes.
Kid-Friendly Nonprofit Events
Organize a children's performance
Work with children from the local community theater to write, practice, and perform a one-of-a-kind play to benefit your nonprofit. Encourage the participating children's parents to promote the performance and sell tickets to the event.
Create Pottery for a cause
Find a local ceramics or pottery store that will allow 50% of purchases to go toward your cause. Parents can have a fun, creative afternoon making a memorable pottery piece for your cause.
Host a Halloween contest
Organize a Halloween party and encourage children and parents to come up with themed costumes (e.g. bacon and eggs, Elsa and Olaf from Frozen, etc.) and compete against other teams. Charge a small entrance fee and reward the winning pair.
Run a children's "bake off"
In the style of several kids' baking competitions on TV right now, gather a group of children willing to compete to bake the ultimate cake, cookies, cupcakes, or other baked goods. The winner gets to take home a trophy and the resulting cookies and cakes can be sold in a high-end bake sale.
Organize a poetry slam
Partner with a local coffee shop to host a young adult poetry slam contest. Charge $5 for entrance and arrange to have a portion of the coffee sales go to your nonprofit. Arrange to have the winning poet's work published in a local or national poetry publication as a reward.
Host a book drive
Organize a book drive, encouraging people to donate old books or buy other people's old books for reduced prices. Money collected goes your nonprofit and remaining old books will be donated to schools.
Put together a back-to-school drive
Encourage parents to donate money and new school supplies for local schools. Half of the money will go to your nonprofit—and the other half will go toward buying more supplies.
Offer a travelling car wash
Raise money by selecting volunteers to wash cars, with the proceeds going to your organization. But don't stop there! Why wait for the cars to come to you, when you can come to them? Work with local businesses to offer their employees or customers car washes while they shop or work.
Organize a 50/50 raffle
Sell raffle tickets and give half of the collected raffle money to the winner. The other half will support your organization.
Plan a spelling bee contest
Speak to local schools about participating in a spelling bee and raise money by inviting your current and potential donors to support the children and the cause. This is an especially great charity event idea for literacy nonprofits.
Adult-Oriented Nonprofit Events
Organize a themed Halloween party for adults
Find a corporation willing to rent out their venue for a reasonable price or, even better, an organization willing to let you use their venue at no cost (but for a great tax write off). Charge for admission to the Halloween party and be sure to include awards for best costume, best couples costume, and crowd favorite costume as well as a great buffet and open bar, with tips going to your cause.
Throw a rooftop party
Find the ideal spot with that perfect view and invite potential and existing donors to a rooftop party with cocktails and appetizers, with all proceeds going to fund your nonprofit.
Arrange a poolside BBQ
Make it a BBQ that your donors won't soon forget! Offer piña coladas, organize pool games, and let everyone know that they are enjoying food and drinks for a great cause.
Organize a benefit concert
Recruit local bands to participate and contact more mainstream artists' managers informing them about your cause and asking them to participate. Add a competitive angle to the concert by having a "battle of the bands" style concert. The winning band will have their single featured on a local radio station.
Host a high tea
Mail formal invitations to your donor base to a high tea. Indicate the cause that guests will be supporting and be sure to include sophisticated food items and superb service. Additionally, high tea events are great for acknowledging your most ardent supporters and biggest donors.
Social Media Charity Events
Create a "tag war" giveaway on Instagram
Post image of upcoming charity event on Instagram and encourage followers to tag friends who might be interested in attending. Reward the attendee who tags the most individuals!
Go live on Facebook
With the availability of real-time features on social media, Facebook offers organizations easy access to support funds. It could spread like wildfire—so promote your next charity event via Facebook and be sure to provide viewers with a number to call or website to visit.
Get celebrity endorsement
Invite guest speaker, such as an industry professional, to go live on Facebook, post on your organization's Instagram page, or snap videos. Speaker should direct supporters to organization's website and encourage donations.
Hold a photo competition
If you have an eStore or offer products for purchase as part of your fundraising efforts, encourage supporters to buy products from your organization and post picture on Instagram with a designated hashtag. The winner gets an alluring prize (plus, of course, Instagram fame) and make it clear that all purchases from that contest went to fund your cause.
Make a digital flyer competition
Host a digital flyer competition, where people can design a charity event flyer and the winner gets you're their design featured at your organization's next charity event.
What are some of your favorite charity event ideas?