Organic reach is important, but it's getting more and more difficult for businesses and nonprofits to increase their reach organically on Facebook. This is where paid advertisements come in. Fortunately, Facebook is a relatively cheap platform for promoting content. The average cost per click for Facebook ads at the end of 2016 was only 27 cents. Start taking advantage of the low cost and follow these steps to set up your first ads!
Installing Pixel
Facebook Pixel allows your nonprofit to set up retargeting ads. This means that Pixel recognizes who visits your nonprofit website, then shows those people your ad on Facebook to "retarget" the visitor back to your website. Pretty cool, right? These ads are also extremely effective. According to ThriveHive, leads from retargeting ads can increase conversion rates by 147%.
To install pixel and start upping your online fundraising conversion rates, follow these instructions. The only caveat is that you must be able to directly edit your website's code. Don't worry, you don't need to be a programmer to install Pixel – you just need to know how to copy and paste!
Outlining Ad Campaigns
After you have Pixel installed on your website, you can begin outlining the details of your advertising campaign. You will want to consider the type of ad, the demographics of your target audience, and your budget. In the Facebook Ads Manager Campaigns tab, click "Create" on the left-hand side to start the process. You can then choose from the following ad types based on whether you want to raise awareness, garner consideration for your website and content, or get conversions. Most often, you will want to use the "Traffic" option to steer people toward a specific landing page.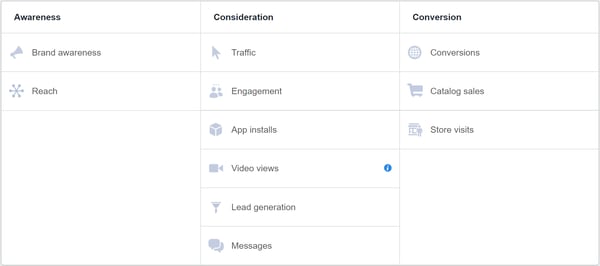 Next, choose your audience. If your Pixel is set up correctly, you should see "Audience targeting visitors to your website" when you click the field next to "Custom Audiences." Use this audience if you want to create a retargeting ad. You can also upload CSV lists of potential donors to target, or create an audience based on demographic/geographic factors.
After audience, you must set a budget and a schedule. If your ad is on a continuous schedule, you can set a daily budget. If you want to run an ad for a limited amount of time, you can set a budget for the lifetime of the ad. Check out this article for more information about choosing a budget for Facebook.
Creating Content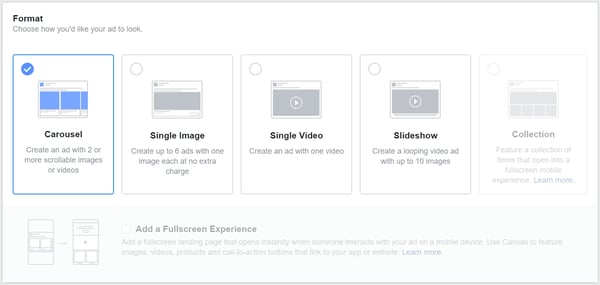 Your last step is creating the content for your sponsored post, which will show up in your followers' Facebook newsfeeds. There are a few different options for content. You can use a carousel of images, a single image, a single video, or a slideshow with a video and images. Don't worry about being too professional with these creative elements. Viewers will be more concerned with the sincerity of your message. To learn more about the different creative ad types, read this.
After following these steps, you should be ready to advertise your nonprofit on Facebook! Whether your goal is to find new donors or simply raise awareness for your cause, this inexpensive ad platform can help you get there.