After many changes to the Facebook newsfeed algorithm, it can be confusing to know what to do on this social media platform. Groups, messenger, and advertisements are all great ways to get your organization seen by more potential donors, and they are more effective than just posting to your nonprofit's Facebook page.
On Wednesday, June 20th, we hosted a webinar giving an overview of how these three tools can supplement your Facebook page and help you form a stronger online connection to constituents.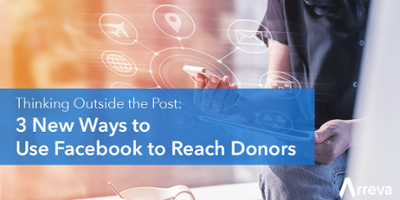 We received some great questions from participants during the webinar and wanted to expand on them here.
1. Do posts to a Facebook group get shown to all members of the group, unlike page posts that are shown to only about 2% of fans?
The answer to this question is part of the reasons I recommend Facebook groups so highly. If you're only posting to your nonprofit's page, you are missing out on being seen by more potential donors and constituents. Posts from business and nonprofit pages alike are not being shown on newsfeeds very often anymore.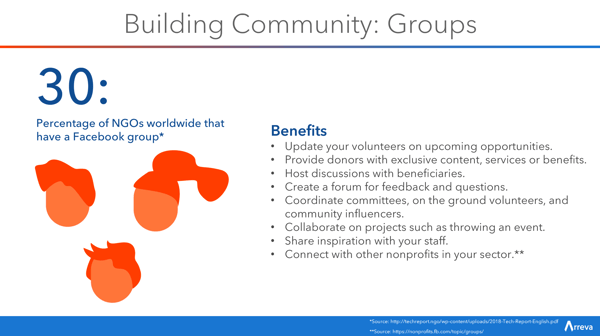 However, groups solve this issue because group posts get shown in newsfeeds more often. Facebook's algorithm changes, detailed in this article from Hootsuite, prioritize showing posts from family, friends, and groups. Not only do group posts have a much higher chance of being in the newsfeed than your page posts, but group posts will also often trigger a notification for group members, vastly increasing the number of people seeing your posts.
Check out this guide on Facebook's nonprofit resource center to learn more about Facebook groups for nonprofits.
2. How often should you post?
The frequency with which you post is dependent on how many people you have working on your nonprofit's Facebook account and how often you can find/edit content for posting.
Really, I only have one rule concerning post frequency and that is: be consistent. Whether you're posting every day, three times a week, or twice per month, make sure you are on a consistent schedule and that the page/group never seems like it's idle.
Luckily, since groups are meant to foster meaningful interactions among members, you may not have to post there as much since group members may keep the conversation going for you by adding their own posts to the group. Be sure to monitor their posts since they are a way for you to interact directly with your donors and constituents.
3. Would you recommend posting on the weekends? Or only during the business week?
In addition to keeping your posts consistent, researching the proper timing can also boost your reach and engagement. The diagram below shows you how to find out when your page's followers are online.
After clicking on the "Insights" button on the top of your organization's page, click "Posts" on the left sidebar. This will take you to a set of graphs showing when the people who follow your page are online. Choose the days and times when most of your followers are online to optimize your posting strategy.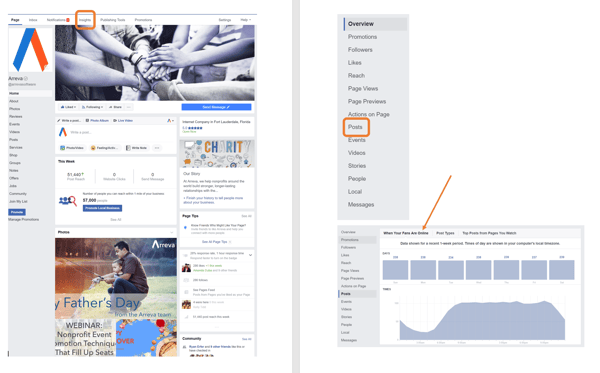 4.

How do you come up with clever things to say?
For some people, typing up something catchy can seem like the most daunting part of social media. First, I'd like to say that fear of something not being clever enough should never prevent you from posting. Consistency matters more than everything you post being perfect.
In order to keep posts clever, it's best to keep things natural. Once you type something out, read it over and ask yourself, "Would I say this to someone in real life?" If the answer is yes, then you are good to go. When it comes to social media, being real and relatable is more important than being clever.
Finally, take a look at our Millennial Messaging Worksheet for a step-by-step guide to creating a like-worthy social post.
Even though it's getting more difficult to be visible on Facebook, you can use these tools to find ways around their algorithm changes and reach more potential donors.