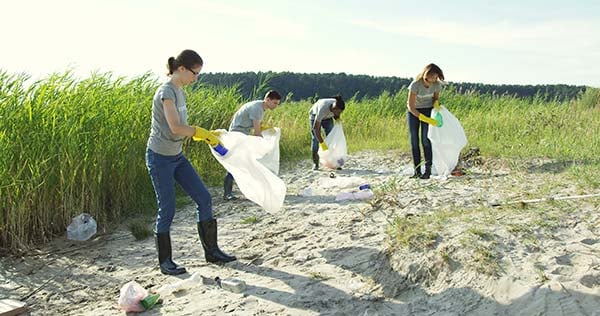 According to Independent Sector, in 2017, every volunteer hour is valued at $24.14, which is up 2.5% from the previous year. That's over three times the national minimum wage! Even though volunteers contribute their time for free, their contributions have real-world value.
However, unlike employees who go through a series of interviews and must meet hiring criteria, volunteers often come from diverse backgrounds with a wide range of experience levels and skills. Effectively managing and retaining volunteers who come from all backgrounds is not easy. Here are several ways to manage volunteers effectively at your organization.
Develop a Good Website
Your organization should have a well-developed website. A good website improves the nonprofit's branding, which can help attract and retain volunteers. First and foremost, the website should have a clear mission statement that appeals to people's emotions.
While an effective mission statement attracts visitors' attention, a well-developed site should also feature a variety of other content to maximize people's interests and trust in the organization's mission and work. Testimonials from past volunteers, pictures, videos and stories documenting their work and impact are some examples.
On the website, there should also be a prominent and easy way to sign up to be volunteers. An easy signup process only asks for information that is absolutely needed, such as name, age and contact info, and the procedure should be easily navigable, and compatible with different web browsers.
Build Relationships with Your Volunteers
Nonprofit staff should also put time into building open relationships with volunteers by being responsive to their thoughts and feedback.
Volunteer coordinators can collect feedback in several ways, such as by encouraging them to fill out evaluation forms and take on leadership roles. Giving volunteers the power and freedom to pursue initiatives, like allowing them to come up with their own events and to participate in staff meetings, will make them feel that they are being taken seriously.
When you move away from micromanagement—a practice which no nonprofit employee has time for—volunteers become more motivated to fully contribute to your organization's programs and events.
It's also common for people to become less enthusiastic about getting involved in activities after they have volunteered for a period of time. To prevent volunteer burnout, you can create team-building events, such as an ice cream social or a volunteer appreciation dinner, to keep people engaged.
Recognize People's Contributions
Another way to manage volunteers effectively is to consistently highlight their work and impact, and to send appreciations for their contributions. Sometimes this means more than just a high five in passing. It takes a little extra work.
Some ways to showcase gratitude to your volunteers are publishing blog posts and resources that they would find useful and interesting as well as organizing appreciation events for people to come together to celebrate all they have accomplished.
You can also dedicate blog posts and web pages to highlight outstanding contributions. You are also encouraged to give regular shout outs to volunteers on social media. People are more likely to keep getting involved if they receive constant recognition for their work.
Use a Volunteer Management Software
A volunteer management software helps nonprofit organizations manage and engage with their volunteers. This tool automates the communication process, allowing emails and notifications to be sent out to volunteers quickly and effectively. The software also helps nonprofit staff keep track of massive quantities of volunteer hours in a relatively easy and error-free way.
A volunteer management software is also useful for matching people to suitable volunteer programs. By systematically analyzing their interests and backgrounds, this tool helps volunteers find opportunities that they both enjoy and excel at.
A large portion of good volunteer management is maintaining positive interpersonal relationships with your volunteers. Sprinkle in some technology best practices, and you're on your way to heading a great volunteer program.