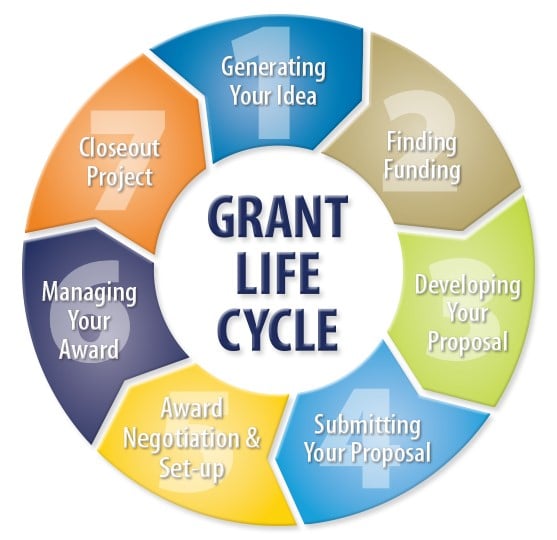 Within the grant life cycle, there are three commonly accepted phases: Pre-Award, Award, and Post-Award. But what goes on during those phases and what are the typical timelines for each phase? Here, we break down everything you can look forward to during and after your own grant writing process.
Pre-Award Phase: 4-12 Months
The Pre-Award Phase tends to last anywhere from 4-12 months, depending on how involved the application process is or how many stakeholders are reviewing the application. Completing an application can take weeks, so plan this phase accordingly to position your organization for optimum success. This is also a good time to review best practices for nonprofit grant management.
As a representative of your nonprofit organization, you'll be doing some heavy lifting for your desired grant during the Pre-Award Phase of the grant lifecycle. Once you've formally decided to move forward to apply for a grant, it's time to gather all pertinent information from key points to major deadlines as you get organized. After you've developed and submitted your application, it'll be included in the review and scoring process by program stakeholders – then you're headed for the Award Phase!
Award Phase: 1-5 Months
Congratulations – your grant proposal secured funding for your nonprofit organization! During the Award Phase, you'll receive an official Notice of Award by the grant-making agency responsible for providing capital. They'll also work with you and other members of your organization to ensure proper legal framework for the funding agreement that will guide the programs and initiatives developed around the grant's intention.
Once your funds are disbursed, the Award Phase is complete, and it's time to put that money into action!
Post-Award Phase: 1-5 Years
Now that you've entered the Post-Award Phase of the grant lifecycle, you're going to be implementing your plan of action over the course of 1-5 years. The exact duration of time will depend on how long it takes for the plan of action to be completed in terms of the required grant work and applicable administrative tasks.
During this phase, your organization will work to achieve the outcomes introduced in the grant, while a grants management officer from the funding agency responsible for your grant will work alongside you to oversee reporting compliance throughout the life of the grant award. Your organization will be responsible for submitting financial and programmatic reporting and may undergo auditing throughout the process. Once your organization has accomplished all goals and requirements of the grant, you're ready to begin closeout and end the grant life cycle.
It's important to stay organized throughout all of these phases. Tools like a Grant Management module can help you keep everything in order and stick to a grant process that works for your organization.