The best nonprofit annual reports provide customers, investors, boards of directors, and employees with the information necessary to assess progress. One of the primary purposes of the annual report is to acquire new business, making factors such as format and design equally important. For example, visuals often appeal to readers, as they break apart big blocks of text, making it easier to read and understand the information.
Grab a pen and paper and get ready to take notes. Below are nine of the best nonprofit annual reports from 2016 that exemplify key features that every organization should be utilizing in these reports. If you incorporate only a handful of the techniques highlighted in the annual reports featured below, you can be certain to impress your board members, donors, and general public. Also check out our post on the best reports from 2017 for an updated look at the best of the past year.
The American Association of Retired Persons produced an exemplary annual report by minimizing the amount of text on each page and keeping things simple and interactive. Organizations often produce annual reports that are overwhelming to read. For this reason, such organizations should take note of the American Association of Retired Persons' latest report, which not only simplifies the data, but the complex subject matter as well.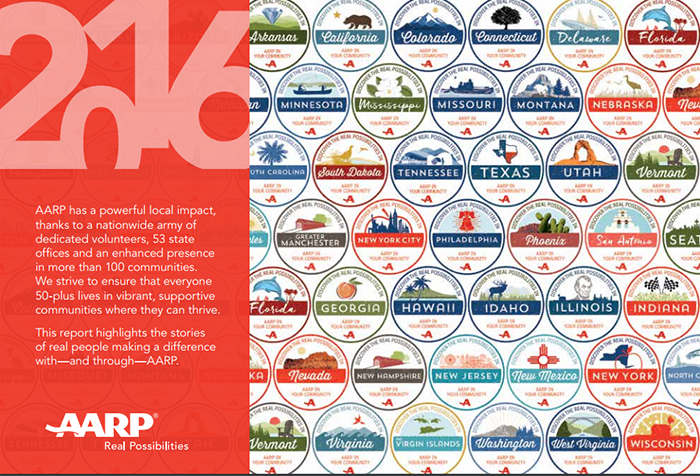 Photo courtesy of AARP.
The Wildlife Conservation Society utilized graphics flawlessly. This is a great way to garner readership and engagement, but it must be done well to effectively gauge interest. This annual report is text-based, but the background photographs are relevant to each page. In addition, it uses photographs as a means to evoke emotion and place emphasis upon the nonprofit's mission: to save wildlife and wild places worldwide through science, conservation action, education, and inspire people to value nature.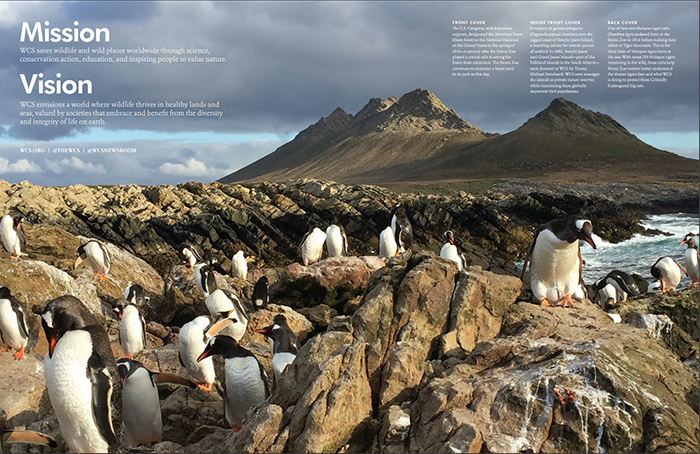 Photo courtesy of the Wildlife Conservation Society.
The Center for Strategic and International Studies produced an annual report that strategically separated the information into three separate documents. On the website, the annual report is categorized under three separate chapters and, as a result, each chapter has its own link. The first document provides an overview of 2016; the second document focuses in on the impact that the organization has made; and the third provides readers with details regarding the organization's reach. Quick accessibility and organization are essential features that should certainly be considered when producing the best nonprofit annual report.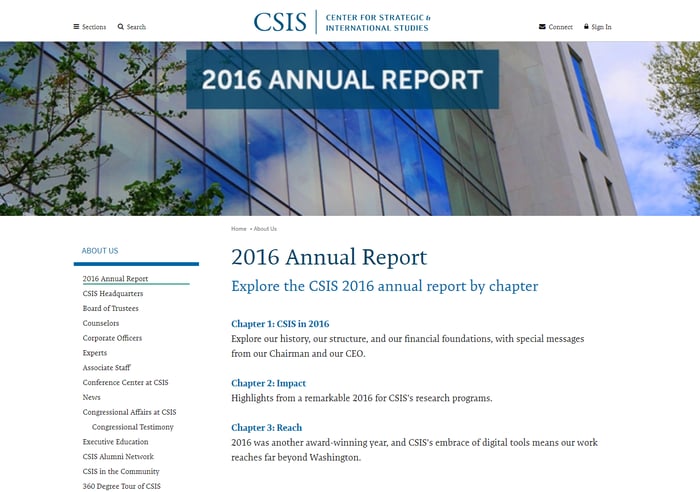 Photo courtesy of the Center for Strategic & International Studies.
The Girl Scouts generated an annual report that promotes simplicity by incorporating a repeating pattern. Aside from using charts and graphs as a means of relaying information to readers, one can see green and blue as the main colors throughout the report, which is symbolic of what the Girl Scouts of the USA essentially stands for. Organizations should certainly aim to project their own values throughout their reports.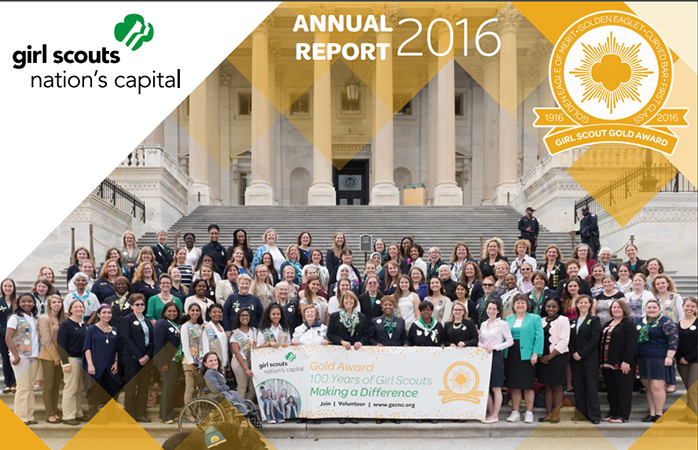 Photo courtesy of Girl Scouts of America.
Ashoka Scandinavia's annual report used a graph as a financing model, which consists of regional members, fellow stipends, global investors, and regional investors. Because it was strategically placed toward the end of the report, readers were able to make sense of the report. It is important for reports to conclude effectively, which is precisely what this organization did.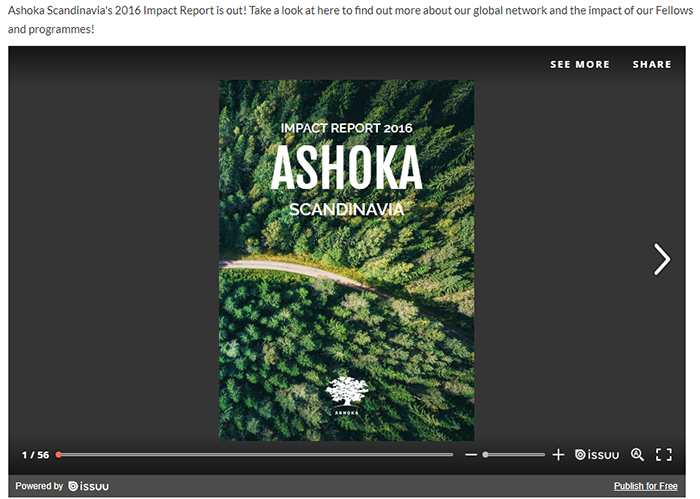 Photo courtesy of Ashoka Scandinavia.

Ronald McDonald House Charities expressed its gratitude through its introductory message. Not every nonprofit aims to connect with the public through their annual report, but through expressing gratitude and attributing success to the public, organizations engage readers and encourage outside participation. Acknowledgement should consistently be integrated into a nonprofit's annual report.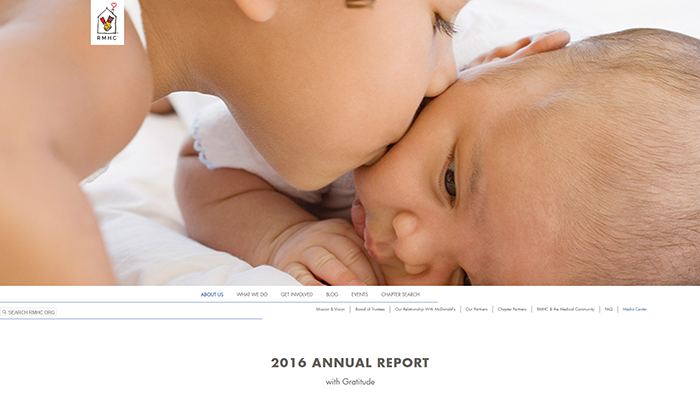 Photo courtesy of Ronald McDonald House Charities.
The Sierra Club Foundation produced a phenomenal annual report with the use of shorter paragraphs. In each page of this report, short paragraphs are followed, or surrounded, by pictures. This allows readers to search through the report without difficulty. Lengthy sentences should be limited to certain parts of annual reports, but organizations will find that short paragraphs, supplemented by illustrations, suffice.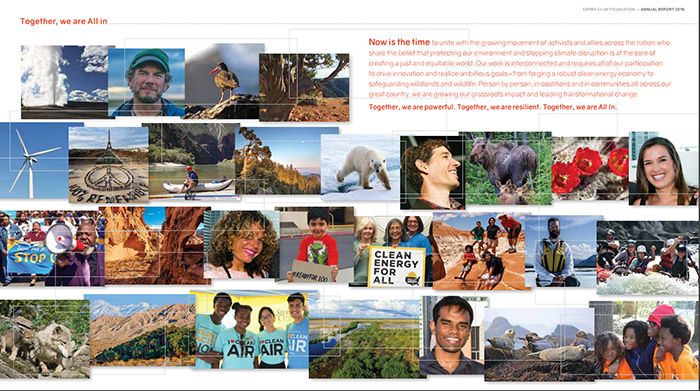 Photo courtesy of Sierra Club Foundation.
The International Rescue Committee integrated statistics throughout its annual report. This is a strategic decision because it allows readers to comprehend the urgency of the issues facing the world and what the organization is doing to combat such issues. Nonprofits should include statistics in their annual reports in efforts to back up data and produce emotion.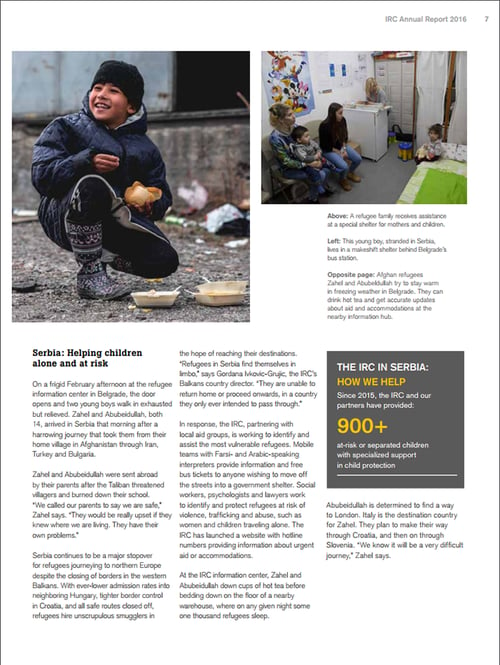 Photo courtesy of International Rescue Committee.
The National Public Radio's annual report was written in an interactive way by designing certain pages in a simplistic manner. These pages consist solely of quotes and others solely of pictures. Organizations should ensure that certain pages are simple for the annual report to appeal to readers. In this way, the annual report is viewed as a presentation and not merely as information overload.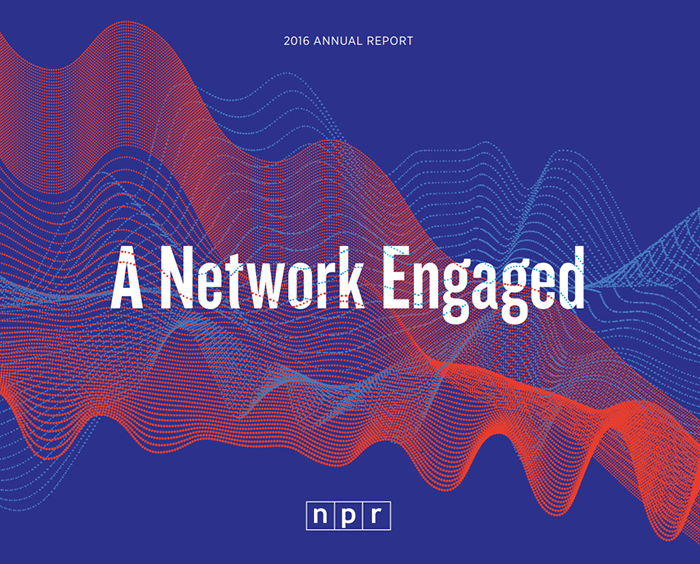 Photo courtesy of National Public Radio.