As you lead your nonprofit into the new year, it might be time to take a fresh look at your marketing strategies.
Chances are your nonprofit has an active social media presence that you carefully maintained all year. While invaluable for strengthening your relationship with your base of support, social media is after all just one of many tools at your nonprofit's disposal!
The tried-and-true email continues to be one of the most effective and personable ways to directly reach the people who you know are already interested in supporting the important work that you do.
Well-executed email campaigns are perfect for maintaining strong relationships with the people who matter most to your organization. Here are five key tips to sharpen your nonprofit email marketing strategies:
Target your emails to segments of donors.

Invite your reader to act.

Fully engage with your reader.

Remind donors about matching gifts programs.

Optimize the look of your emails.
Other methods like direct mail can be extremely useful, but email can be an especially cost-effective and impactful means of marketing. Follow these tips to boost the impact of your nonprofit's next campaign!

Target your emails to segments of donors.
You already have an extensive mailing list, but are there any new ways you can segment this information?
Consider all of the ways that your nonprofit engages with its donors. What is their relationship to your organization? What do they like about your organization? What might they want from your organization?
As you begin a nonprofit email marketing campaign, your strategies should reflect the fact that your donors engage with your organization in multiple ways. Key segments of your base might be:
Event attendees

who have provided you with their contact information. Maybe they've already donated to you. Great! Maybe they haven't, but asking them to attend another event or engage in a different way is the first step to securing a donation and building that relationship.
Volunteers

who already donate their time and labor to your nonprofit because they believe in the value of your work. Maybe they'd be interested in financially supporting your organization, too, but they'd appreciate project updates or a warm thank-you for their help regardless.
Targeting your email campaigns through segmentation can boost your chances of successful engagement with donors, and emails are a great place to ask for new donations from the people who have already expressed interest in your organization, too.

Invite your reader to act.
Email is certainly useful for informing your donors about events or campaigns, but a plain message on its own is unlikely to inspire a flood of new donations, volunteer sign-ups, or event registrations. To get your supporters to do more than just read, include a captivating call to action in every email you send!
Think of all the things your supporters can do to help your nonprofit, and then explicitly encourage them to act by:
Directly asking for donations.

Thank existing donors, but also make clear your ongoing need for support. Make the decision easier for donors by providing tools that

make the payment process simple and easily accessible on web and mobile devices

.
Letting donors engage with your social media presence.

Encourage your email recipients not only to connect with you but to share your content. If they've supported your organization in the past, they'd likely be willing to tell their friends about the work you do as well.
Whatever your email says, your reader needs to come away feeling compelled to do something, be that donate, volunteer, attend an event, or spread the word.
Use active and inviting language to persuade donors to get directly engaged, and then make the process easy for them by providing intuitive sign-up tools or donation links.

Fully engage with your readers.
An email campaign can get your donor base to engage fully with your message, so it's equally important that this campaign fully engages with them. What messages or updates would your donors most want to receive?
Think of email campaigns as both a way to generate new donations and also as a tool of stewardship in maintaining the important relationships you've already built.
Reinforce what you've accomplished together. For example, you can use emails to show your supporters their contributions in action by:
Providing

updates

on past and ongoing campaigns. Tell some real stories about how your nonprofit is making a difference with the help of its donors' support. Maybe your donors or volunteers would like to share their stories, too!
Including high-quality

visuals

to illustrate your organization's work. Show your donors that their support has been both valued

and

effectively utilized, maybe with photos of volunteers in action or evidence of the community work you've completed.
Informing recipients of upcoming

opportunities

to get involved, and providing them with the simple digital tools they'll need to donate, view and share content, and sign up to volunteer at your upcoming projects.
No matter how you do it, maintaining an engaged relationship through email campaigns is how you can turn one-time donors into long-term participants in your organization!

Remind donors about matching gifts programs.
If you're looking to develop a nonprofit email marketing campaign for your nonprofit, you're also likely on the lookout for creative ways to increase your fundraising power. Although effectively asking for money online is a difficult art form to master, encouraging donations is never a bad idea.
One of the best ways to boost your revenue quickly and effortlessly is to maximize the impact of corporate matching gift programs by simply telling your donors about them.
Companies of all sizes offer matching gift programs that enable them to match part, all, or even more than twice an employee's gift. These employees might be unaware that such programs exist, so use your email communications to remind donors whenever possible. Good places for these reminders include:
If you've never promoted matching gifts using email before, check out the example below: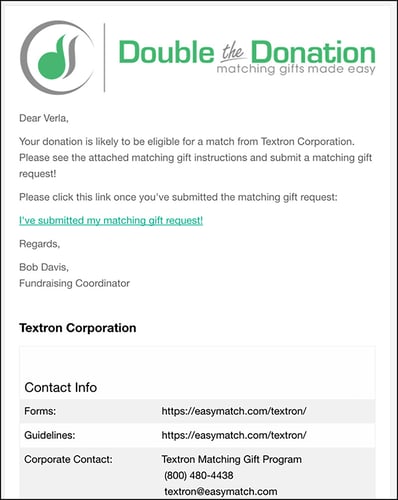 Matching gift programs represent a major opportunity that many nonprofits miss; be sure yours doesn't by doing some research and encouraging your donors to take advantage of any such programs that may be available.
Want to learn even more about matching gifts? Check out the expert's guide from 360MatchPro to learn everything there is to know about this vital fundraising opportunity.

Optimize the look of your emails.
To put it simply, no one wants to read an uninviting, unappealing message. If you follow the other tips in this article and optimize the strategy, target, and intent of your email campaigns, the visual and formal look of your emails requires nothing less!
Each element of your email campaign should be optimized to best increase the chances that your donors will continue engaging with your organization.
This means not only ensuring that your email looks its best and flows smoothly but is also specific to the segments of donors you may have identified in Tip #1.
Keep every element in mind, including:
Subject lines.

Your email shouldn't look like spam! Avoid subject lines that are too general and use language that implies desperation. This way, recipients will be more likely to take the time to see what your email actually regards.
Branding.

Make your

nonprofit's visual identity

loud and clear without overwhelming the reader. A clear visual identity, including your nonprofit's logo and color scheme, can unify the image that donors have of your nonprofit and reinforce their trust in your organization.
Links and buttons

. Provide a handful of clearly labeled links to your websites, social media pages, and event invitations. Services exist to offer embedded email buttons for checking for gift-matching programs and easy donation options.
Cleanly and consciously designed messages will always appear more professional and attractive to recipients who otherwise might not be willing to take the time to read them, so be thoughtful when formatting your emails.
As digital media becomes more advanced and more central to the ways in which we engage with the organizations and businesses around us, it's important to remember that tried-and-true methods like email remain some of the most personable ways to reach out to your donor base.
When your messages are thoughtfully composed, helpful, direct, and specifically targeted to their key donors, they'll be sure to make an impact. Emails are the perfect opportunity to engage with your supporters and more effectively market your nonprofit to the people who already (or might want to) support it in one way or another.